The beginning of Shams' Story
We were born in 1962. Since then, we have come a long way and some of the best have accompanied us on this road to becoming your constant companion. Our goal from the onset was to create a quality malt beverage (non-alcoholic beer) that would speak to the consumers and their different palates. Through this we intended to become your favorite brand and a constant companion to you on every occasion. Since 2007, we have come back to your lives as part of the Castle Noush company. In a factory located in Shahriar, in a land as large as 4.5 hectors, besides producing carbonated juice and carbonated fruit juice beverages under the brand name Castle we also started crafting malt beverages as Shams. We believe in getting refreshed so we decided to become fresher and bigger and accompany you throughout life with our different flavors.
We pay attention to quality and freshness, and we are happy to be your companion whenever you need a refreshing moment in life, on any occasion. Our non-alcoholic malt beverages are offered in glass bottles, CAN and 1-liter PET and comes in different flavors including Classic Malt, Lemon-mint, Lemon, Peach, Tropical, Pineapple as well as Golden Cap.
Previous posts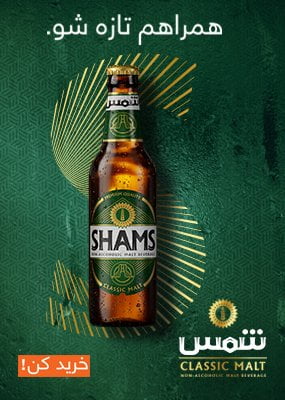 Related posts