Get to Know Shams Non-Alcoholic Malt Beverages
Are you excited to learn about our malt beverages? In this post, we are going to introduce you to the amazing flavors of Shams malt beverages. Besides their exciting flavors, these drinks are also offered in different sizes so that you can enjoy one anywhere, at any moment and on any occasion.
So buckle up and get ready for a tasty ride.
Shams Classic Malt: Shams classic malt includes malt extract and hop. This low calorie drink has the classic taste of non-alcoholic beer and is available in CAN, glass or 1-litre bottles.
Sham Lemon: Tasting like lemon, this malt beverage is a good choice for combating thirst. You can enjoy Shams Lemon in glass, CAN or 1-liter bottles.
Shams Pineapple: If you love the sweet scrumptious taste of pineapples, you must try Shams Pineapple. Get your hands on a glass or 1-liter bottle to experience the taste of this delicious drink.
Shams Peach: Peach is reminiscent of jubilant summer days, just like Shams Peach at any time of the year can take us back to a beautiful summer day. Shams Peach is available in CAN, glass, or 1-liter bottles for the whole family to enjoy.
Shams Tropical: You can find a variety of tropical fruits in a healthy malt beverage called Shams Tropical. Shams Tropical is available to you in glass, CAN or 1-liter bottles.
Shams Lemon-mint: When the sour refreshing taste of lemon is coupled with the freshness of mint, we get a drink that is truly refreshing. Shams Lemon-mint has lemon and mint and borrows its sweetness from natural date sugar syrup extract for a truly refreshing experience. When you need to refresh, don't forget Shams Lemon-mint in glass or 1-liter bottles.
Previous posts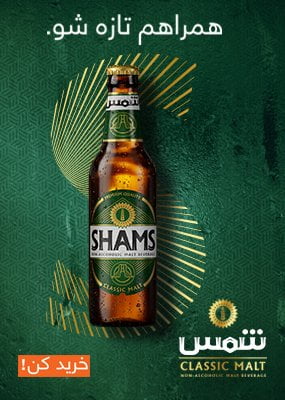 Related posts